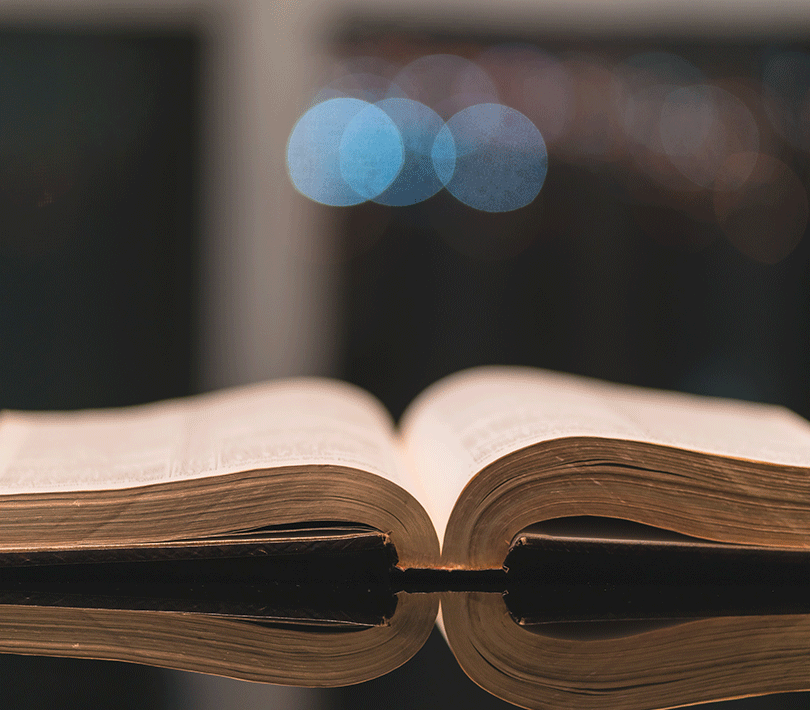 Bachelor of Science in Church Leadership
Prepare for a wide range of church leadership roles and responsibilities through the Bachelor of Science in Church Leadership degree program at Jakes Divinity School (JDS).
Fully accredited through a partnership with North Central University, church leadership training provided by JDS helps you to become a ministry leader in your church or in a similar setting.
JDS church leadership courses are offered 100% online. Take classes part-time or full-time so that you can work toward your church leadership degree on a schedule that works best for you. You will also have opportunities for learning, networking, and gaining experience through virtual conferencing and annual in-person events.
Answer your calling with a well-rounded, forward-thinking bachelor's degree program that prepares you to serve among
leadership in the church.
Apply Now

Take 8-week church leadership courses,
full- or part-time

Benefit from
access to leading theologians, pastors, and educators

Receive hands-on experience
through in-person residencies

Develop global connections
through an online learning community

Prepare yourself
for a position among leadership in the church
Why an online church leadership degree at Jakes Divinity School?
JDS offers church leadership training from experienced and passionate professors in areas like preaching and teaching, interpersonal relationships, and pastoral care and counseling. This comprehensive church leadership degree program fully prepares you for a wide range of church leadership roles and responsibilities.
What can you do with a church leadership degree?
Anchored in biblical values, this Executive MBA program will help you to advance your personal brand—at JDS and into your career. The Executive MBA program online aids aspiring Christian leaders like you to advance your spiritual calling through rigorous academics, leadership coaching, and exclusive programming.
JDS church leadership degree graduates become:
Ministers and pastors
Ministry organizers and planners
Ministry workers
Nonprofit organization managers
Pastoral care and counseling workers

Career outlook for positions in church leadership
Community and social service occupations, which include religious positions, are expected to grow by 12% during the next 10 years, according to the U.S. Bureau of Labor Statistics.
Take the path to your church leadership degree
Get started on the path to earning your church leadership degree and answering your life's calling. Review our FAQs, and if you still
have questions, please call us at 1-866-85-MYJDS (1-866-856-9537) or email us at info@jakesdivinity.org. 
Explore Financial Aid
Put your JDS church leadership degree within reach by applying for federal loans, grants, and/or scholarships. Start by completing the FAFSA. Use School Code: 002369 North Central University. 
Request More Information
If you need more information or would like to connect with an admissions counselor about the church leadership degree, please
submit this form.
Church Leadership Core & Electives
Church Leadership Core – 40 Credit Hours
Pentecostal Distinctives – THEO 240 (3)
Church Administration – PMIN 340 (3) or Non-Profit Administration – BUS 281 (3)
The Spirit and the Church – THEO 360 (3)
Any OT Bible course – BIBL *** (3)
Any NT Bible course – BIBL *** (3)
Personal Formation and the Spiritual Leader – PMIN 231 (3)
Homiletics I – PMIN 252 (3)
Pastoral Theology – PMIN 378 (3)
Church Leadership Mentoring – PMIN 205 (4) [1 credit course taken each of first 4 semesters]
Bible Lands Seminar (3) or Elective (BIBL, PMIN, THEO)
Internship I – PMIN 491 (3)
Internship II – PMIN 492 (3)
Senior Project – PMIN 495 (3)
Church Leadership Electives – 21 Credit Hours
*Select from the options below. (At least 15 credits must be at an upper-level, 300+)
Biblical Principles of Evangelism – PMIN 222 (3)
Youth and Children's Studies – PMIN 250 (3)
Conflict Resolution and Negotiation – PMIN 330 (3)
Homiletics II – PMIN 352 (3)
Discipleship and Mentoring – PMIN 348 (3)
Topics in Sexuality, Marriage, and Family Issues – PMIN 430 (3)
Pastoral Care of Families – PMIN 432 (3)
Contemporary Pastoral Techniques – PMIN 443 (3)
Children and Youth in Crisis – ICS 385 (3)
Any PMIN elective – PMIN ***
General Electives – 16 Credit Hours
*Select from any courses offered.
TOTAL CREDIT HOURS = 124
NOTE: Degree requirements subject to change.
General Education and Christian Studies Core – 47 Credit Hours
Christian Studies – 18 Credit Hours
Old Testament History and Literature – BIBL 126 (3 credits)
New Testament History and Literature – BIBL 127 (3)
Reading and Interpreting Scripture – BIBL 220 (3)
God and the Gospel – THEO 210 (3)
God and Religion – WTHE 220 (3) or God and Humanity – WTHE 230 (3)
Select any BIBL, THEO, or WTHE elective (3)
English – 6 Credit Hours
Rhetoric and Research – ENG 124 (3)
Select any ENG elective – ENG *** (3)
Social and Behavioral Sciences (Select any 2 courses) – 6 Credit Hours
General Psychology – PSYC 125 (3)
Introduction to Sociology – PSYC 126 (3)
Select any PSYC elective – PSCY ***
Mathematics and Science – 6 Credit Hours
*Select 1 Math course and 1 Science course:
Applied Math and Personal Finance – MATH 110 (3)
Liberal Arts Math – MATH 115 (3)
College Algebra I – MATH 125 (3)
Statistics – MATH 260 (3)
Biology – SCI 114 (4)
Science, Technology, and Society – SCI 280 (3)
Select any MATH or SCI elective – MATH *** / SCI ***
History (Select any 1 course) – 3 Credit Hours
History of Global Christianity – HIST 212 (3)
World History – HIST 240 (3)
Select any HIST elective – HIST ***
Global Awareness (Select any 1 course) – 3 Credit Hours
Global Perspectives – ICS 111 (3)
Cultural Anthropology – ICS 112 (3)
Select any ICS elective – ICS ***
Critical Thought (Select any 1 course) – 3 Credit Hours
Visions of the Good: Ethics and Worldview – CT 213 (3)
Select any CT elective – CT ***
Fine Arts (Select any 1 course) – 2 Credit Hours
Music Appreciation – FA 112 (3)
Film Appreciation – FA 131 (3)
Select any FA elective – FA ***
What needs to be submitted with my application?
Official high school and college transcripts

Transcripts can be sent 2 ways; electronically or physically (via mail)

Electronic transcripts are the safest and quickest way to send transcripts. Electronic transcripts should be sent to: Asmith@tdjakes.org (must be sent from a third-party Safe Sender, such as eScrip or Parchment to be accepted).
Physical transcripts can be sent to the address below and must be in a sealed envelope from the school remitting the transcript to be accepted:
North Central University
Attn: NCU Admissions 
910 Elliot Ave.
Minneapolis, MN 55405
How can I submit my application for the Bachelor of Science in Church Leadership program?
Submit an online application.
Written Statement 
If your cumulative GPA does not satisfy the 2.2 requirement, you must submit a one-page essay answering the following four questions:
What contributed to your low GPA?
What is different now that will allow you to be more successful in your studies?
 How many hours each week will you be able to commit to studies?
 What will it take to create the space and prioritize that time?
Complete admissions interview (This will be scheduled with you by an Enrollment and Student Services Coordinator once you have completed the other steps.)
What are the academic prerequisites?
Applicants will need a high school diploma with a minimum GPA of 2.2.  If the applicant has a low or no GPA, then an essay is required.
How much does the program cost?
$500 per credit hour
Technology and Program Fee: $400 per semester
The degree is offered online with some face-to-face opportunities for learning, networking, and hands-on experience. All of Jakes Divinity School students will have face-to-face residency opportunities twice a year. The first is during the International Leadership Summit each spring of a given degree program. Students will arrive on site of the summit the Sunday evening prior and remain for a week until the end of the summit. The second residency will likely take place in Dallas, TX, at Jakes Divinity School in the fall of each year.
PLEASE NOTE: We are currently accepting students from all 50 states in all programs powered by North Central University
Is there is an admissions application fee?
The admissions application fee is currently waived.
Is the program online?
This degree is offered in an online hybrid format with opportunities for face-to-face residencies twice a year and live video conferencing.
What is the course format?
Each of our semesters are 16 weeks total with 8-week sessions.
Students are also encouraged to participate in two residencies per year – the International Leadership Summit and the JDS Symposium.
How long is the program?
The program is 124 credits which should take approximately 4 years.
Does JDS/NCU accept transfer credits from a prior institution?
JDS/NCU will consider credit hours from other accredited institutions for transfer. Official transcripts must be sent and evaluated for credit transfers.
Are there admissions deadlines for financial aid?
Yes. Please refer to the financial registration deadline and academic registration dates made available through your JDS Enrollment and Student Services Coordinator.
Does the program allow financial aid?
Yes. You have the option of applying for federal loans, grants and/or scholarships.
Who is eligible for financial aid?
Federal guidelines generally require students to be enrolled in a minimum of 6 units/semester hours to use federal financial aid. Students are not eligible to use federal financial aid (FAFSA) if starting in Module 3 of any semester. If starting in Module 3, students will only be enrolled in 3 units (1 course). Students can still be admitted for Module 3 of a semester and pay out of pocket for tuition.
How can I apply for Financial Aid?
Complete a FAFSA application and use School Code: 002369 North Central University.
North Central University (NCU)
910 Elliot Ave Minneapolis, MN 55404
School Code: 002369
Click here to complete a Spanish FAFSA application.
Do you accept international students?
Yes. However, there is no federal financial aid available or institutional scholarships for international students. Contact your Enrollment and Student Services Coordinator for details on the admissions process for international students.
Can I still apply for the program if I live out-of-state?
Yes.